There is an acute and unmet clinical need for new effective cancer therapies in transplant patients.
There is an acute unmet clinical need for new effective cancer therapies in transplant patients. Patients who undergo life-saving organ transplants are at increased risk of developing cancer that is both more aggressive and more deadly. This is due to the immunosuppressive drug regimen these patients take to prevent their immune system rejecting the transplanted organ. However, these drugs also blunt the immune's systems ability to recognize and kill cancer. It is not surprising that the median survival postcancer diagnosis for transplant patients is only 2.7 years compared to 8.3 years in their immunocompetent counterparts. The majority of cancers that develop in transplant patients are skin cancers. Aside from surgery, there is a paucity of treatment options available to these patients, as chemotherapy can be damaging to the transplanted organ. Furthermore, according to MD Anderson Cancer Center, treatment with systemic immunotherapies can result in organ graft rejection >80% of the time and death 46% of the time. 
Activate's nanolipogels can deliver two drugs with proven efficacy to provide effective immunotherapy to transplant patients
The combination of two immune modulating drugs, interleukin-2 (IL-2) and imiquimod, has been shown to be effective in several skin cancers, and a 2021 report demonstrated that squamous cell carcinoma in a liver and kidney transplant patient could be successfully treated by local delivery with these drugs without rejection of the transplanted organs.  
Activate's nanolipogel solves the challenges of short half-life, solubility, and toxicity for these drugs.  It also creates the first injectable formulation of imiquimod (previously limited to topical application of a cream), benefiting a much broader patient population.
Activate's nanolipogels deliver combinations of immune oncology drugs to the right place, at the right time, for the right length of time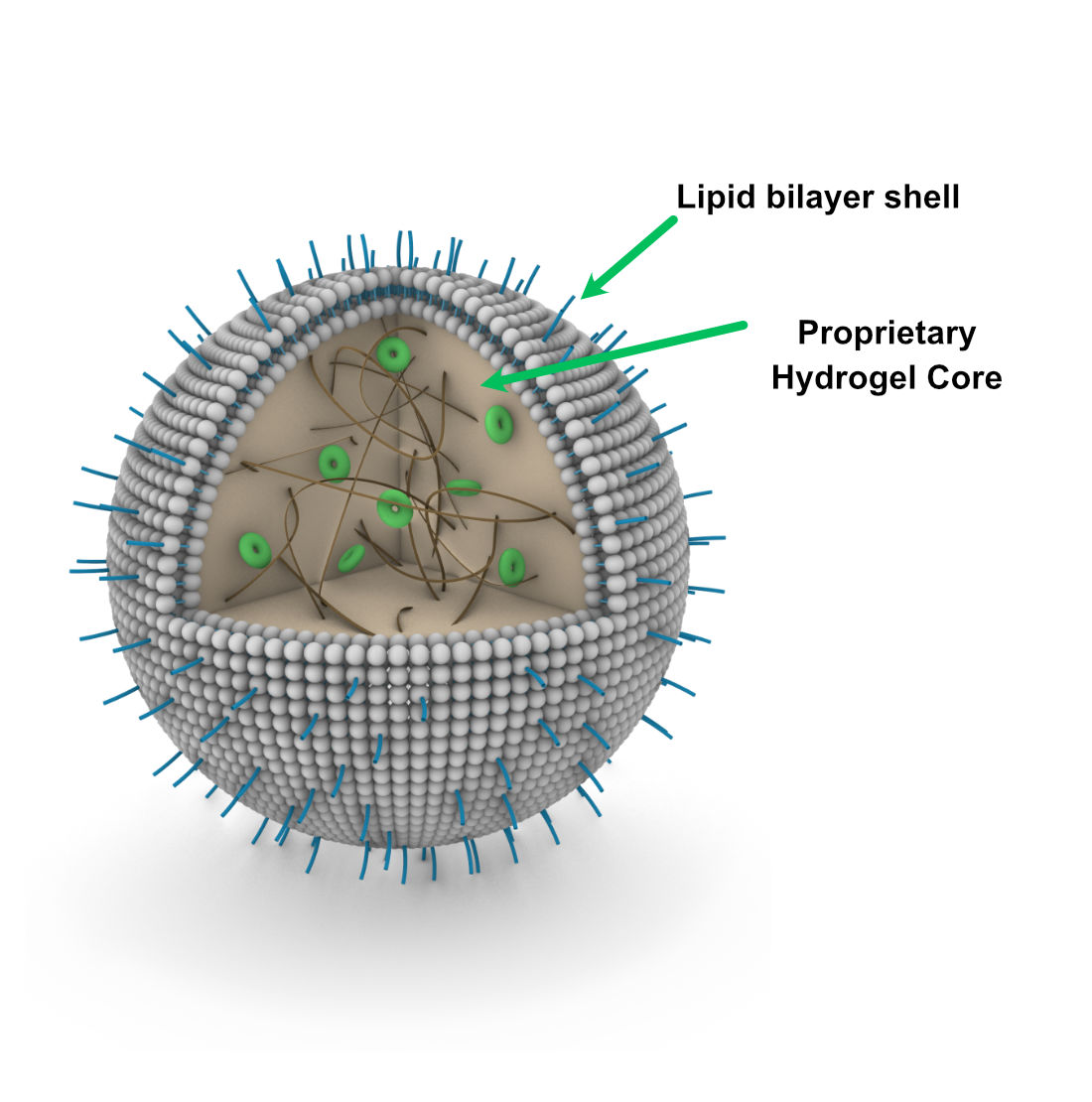 The liposome shell: Similar properties as used in other approved "stealth liposome" drugs
This well understood technology provides favorable drug biodistribution and pharmacokinetics
The hydrogel core: composed of biodegradable polymers and a cyclodextrin matrix
Can load combinations of different drugs – small molecules, proteins, and nucleic acids

Provides for controlled release and sustained delivery of drugs
Biodistribution and the pharmacokinetics:
Controlled by the nanolipogel, controlled sustained delivery of drugs to targets in the tumor shifts the therapeutic window of drugs for more effective treatment
Kg scale GMP manufacturing: Bench to Bedside
Activate's nanolipogel manufacturing operations leverage "standard" processes used for liposomal drugs using low cost "off the shelf" materials. This simplifies process development, and regulatory submissions can leverage experience with liposomal drugs.
Activates creates novel and patentable combinations of drugs with proven oncology efficacy. This reduces risk, and allows Activate to leverage large sets of existing pre-clinical and clinical data to simplify regulatory filings and guide clinical plans.
The production of Activate's drugs can readily be scaled-up for manufacture using Good Manufacturing Process (GMP). This ensures rapid production of clinical drug supplies.
Activate's nanolipogels deliver combinations of immune oncology drugs to the tumor microenvironment
Activate has developed nanolipogels to release drugs so that they reach their targets.   
First you need to get the drugs to the tumor, and Activate has designed the nanolipogels for both intravenous – and intra-tumoral administration.  The liposome "shell" is designed to provide for tumor deposition via the enhanced penetration and retention (or EPR) effect.
Second, the nanolipogels provide for a slow sustained release of drugs.  In the case of IL-2, it is slowly released in the tumor to provide a sustained delivery to its T-cell receptor target. For the TLR 7 agonist imiquimod, Activate's nanolipogels are efficiently phagocytized by these cells, and the stable encapsulation of imiquimod supports the delivery of the drug to receptors in macrophage and dendritic cell endosomes.
Nanolipogel particles accumulate in the tumor
Slow, sustained release of drug payload
Combinations of immune oncology drugs formulated for co-delivery for the optimal therapeutic benefit
Nanolipogel delivery of IL-2 and a TGF-b inhibitor demonstrates efficacy in metastatic B16 melanoma model –and synergy with Checkpoint mAbs
Generation of new pipeline assets